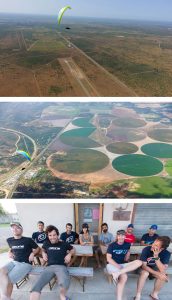 En 2014, Ozone Team moved to Hebronville (Texas) to fly big in june 2015! Seiko and Charles were there too for some outstanding adventure! On the day guy went around Ozona, Seiko left Charles in the middle of a petrol field looking for a narrow landing between the bushes.
While he was walking and used to watch « mirage » and dreaming about the car coming, Seiko went further and further flying until hughe 400 km2 square ranch with fence and lock gate all around until she got stuck at the beginning of the Hill County. Rocky terrain, bushes, farm, fences… She starts to walk and walk…
Retrieval was worried how to reach the spot point… She mets first the gun of the hunter and then could realized he was enough gentle to provide good service and bring her back.
A professional hunter uses to kill hundred of ratle snake in this playground… On the other hand, we were driving through the fence on kilometer of dirty way to finally saw some light, a 4×4 and her going out safe!
What a day! More than 300 km away from the start place keeps her smile for long on her face!
During our trip there we all flew amazing flight and Luc set a great 470 km one.