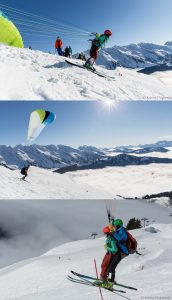 Seiko went to Grand-Bornand to help in the organisation of the famous "Vol à Ski" ( Fly & Ski ) competition tour. She seems pretty happy of this experience.
"I saw for the first time para ski last week! It was just for help the competition and shoot some video. But when I saw the competition, I was really excited! It remained me Wagawaga! When I was acro pilot I went to Dune du Pilat a few times, and I loved it! With para ski I can do it on the snow!
During the competition I tried to do one task. But it was back wind on the take of and I had no much skill to take off with ski (only a little experience in tandem). So even not easy for me to take off.. Some pilots teach me some technique to take off!!! But as I am used to take off with my Enzo, it is not so easy to change…
Anyway I succeed to take off and I did one task! Task was made by several point which we have to touch: stick in the air or by ski, touch and go by ski, and target goal at the end. We have to calculate the course according to the wind force, direction and slope condition. It was much more difficult than when I watched. However I really want to try again this activity!
I feel big possibility to be developed this sport in the future. And pilots can improve their feeling to control the glider as well!"
Thanks Karine Dupureur for the great picture.