After their successfull previous trip, Charles and Seiko are back in Deniliquin!
Winter has been pretty wet in the New South Wales and hughe green line stretching middle of the australian flatland. This time Zeno has joined the game and it will take part of our trip. Our flying partner Pierre and Hans got them too and we are all pretty excited to tri it on the endless flats! A nice opportunity to test and train with our new toy before the world cup Superfinal which will start in Brazil in a few weeks.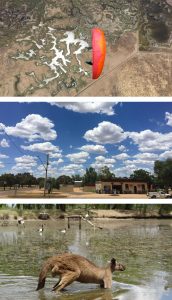 On 9 december, the wind is quite strong in the paddock, checking the wing on the ground during the gust… At 9:30, Seiko set her gear and Ben gets ready to tow her. "Ben, driving to start. Pressure set for reverse launch. Ready? Ready! All out!" In few second we realize the meaning of "pay out whinch" we are using here. Seiko starts to climb while flying backwards, and the 4×4 truck-tow was almost static. We are all watching the scene! With such windy conditions, not easy for her to wait while drifting in the weak thermal of the morning pushing by the wind, she is gliding further east from cumulus to cumulus now on her way to somewhere. Charles tries to get towed and after a few rodeos near the ground, he finally gets in the air. He flies fast trying to catch up with his partner. After few hours, dryer airmass catch him making his flight more complicated… He landed…
Seiko flies this day a new free distance woman world record of 392 km breaking her own record. More details.
December 13. We have moved our start-point to Wilcannia, a town 500 km north from Deniliquin. Pierre tells about his flight: "Today, it was my day to set my record! Seiko a bit sick gave up, Charles couldn't start to play despite two low tow… As old bird, I took all the weak thermal I got to stay in the air, trying to follow the main road. Not much place to land in this part of the Out Back, lot of forest… I had to stay high to catch the cloud but the sky was totally blue at the beginning.
Then cloud appeared around 3000m and it was helpfull to cross big flooded area where I didn't want to finish my fly with a swimming training. Nobody could have picked me there, except Crocodile Dundee maybe!!! Result? 440 km in 9 hours which is my personal best! So happy! Seiko and Charles were following and came to pick me, the perfect team work!"
This year was not so easy compare to 2015 due to flooded areas we have to avoid and that push us to changed our flight plans. Lot of stable day, lower cloud-base generally and some windy day to enjoy our team work on the ground. Anyway a great trip to feel the Australian spirit!